A small digital agency, building websites for multi-million-pound companies.
Pubished by Adam on September 3, 2019
I can't quite believe 1J2 is 17 years old! I get very nostalgic thinking about everything that has happened in those 17 years. From a 20 year old entrepreneur, scouring the Internet for deleted domains, so he could put a name to his collection of online businesses – to now, a digital agency, building websites for multi-million-pound companies. I love what it's become and I'm happy that I still have the passion to do what we do.
I want to continue to build 1J2 into a company that delivers the best. We are small, yes – but we have the skills to put you on the radar of your biggest competitors.
It goes back to the mindset of that 20-year-old. If they can do it, I can do it. It takes a whole lot of work and dedication but we are committed, for you.
You have a builder, for a friend. His driveway is hardcore, his walls are breeze blocks, still waiting to be rendered. He started an extension but hasn't finished it yet. He's too busy doing other people's houses. The same thing happens in this industry. No time to work on your own house.
Craig and I started the new design for this website many months ago but then a stream of new website builds came in and we've been super busy. It wasn't until I had a week off recently (which just turned into a week of meetings) that I set myself a goal – to get the site done. We still didn't have the time, so we both invested some evenings and got it done.
It feels great. We now have a place to show the world everything we do.
What's with all the eggs?
Three years ago I wanted to redesign the jumping figure into something more unique. I had this idea (while in the bath, of course) that the head, arms and legs of the figure, grew up out of an egg. Symbolising the birth of your brand and/or your online business.
I have everything to owe to Craig, he always brings what's in my head to life. And then he went a step further and animated the logo and blew my mind!

I'd been toying with the idea of dropping the 'JUMP' from 1 JUMP 2 and just running with 1J2. Leaving the jump to history. Allowing the logo to do the talking, whilst capturing the essence and meaning of the brand within itself.
So, we have.
We are now known as 1J2.
The new site brings a lot of changes. There are more colours and vibrancy. Not just three shades of purple, but now an array of colours that help showcase the diverse amount of services we offer.
Labs is a fun one. I like to make cool things in my free time, build apps, plugins etc. I now have a place to show them off! In time I will add to the Lab with free to download applications.
This blog! I  spent today coding it up. I think it looks quite fresh. I'll be blogging here before I post anything to social media.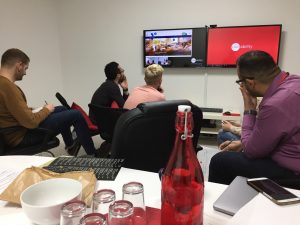 Conversion rate optimisation has always been at our very core, which we intrinsically developed into your website. However, it's now an extra service with a huge added value. We have teamed up with Kelby at Useability to offer usability testing from their studio in Malta – with the option to fly out and be there while your site and our work is being tested.
We have a shop! It's small right now, but I'll be adding different type of products here in the future, starting with embroidered workwear.
Other little bits. We now have a system status page, which will inform you of system outages and upcoming maintenance work to web servers and mail servers. Our hosting control panels have had a brand refresh as well.
Lastly – we have a team page! This year we welcomed Katie to our team. Katie manages everything and has been a much-loved addition, not just by me, but by our clients as well.
Please let us know what you think of the site and if there's anything we need to add to help serve you better.
Adam 😀